A selection of testimonials from clients...
Holmes is my 20 year old thoroughbred, I started having problems with his feet about summer 2013 , it was on and off , just something not quite right but I didn't know what it was, he was shod at the time and to be honest that was all I ever thought was the right thing to do for my horse. It was always straight after shoeing or a couple of days later he would just not be right ( I used to dread getting his shoes done ) it was so upsetting seeing my horse uncomfortable I had just had enough, I did some research to take him barefoot. I asked my farrier who I was using at that time to remove my horses shoes.I studied everything about it and knew I had to find a good barefoot trimmer , i didn't know where to start, I didn't know of any barefoot trimmers all my horsey friends had their horses shod , I was even a bit worried I would be criticised for taking my horses shoes off as it wasn't heard of on my yard .I came across Steves website and the next day I called him. We talked on the phone and he was so lovely , we arranged an appointment for Steve to come and see Holmes. (August 2014)
When Steve arrived and I walked my horse into the yard he looked at him with great concern at how foot sore he was and he was really concerned about the shape of his front hoof. He advised me to get some xrays done of his fronts, again thanks to Steve, I met my new vet.
The vet came out one week later and my boy had been suffering from low grade laminitis hence the on/off footiness and lameness after shoeing. Holmes was also diagnosed with cushings as steve thought and prescribed Prascend. Over the next few months Holmes improved so much , he was comfortable on his feet , Steve came out on a regular basis and worked with the vet to get my boy well again. Steve was marvellous,if I hadnt found him I don't know where I would be today I prob wouldn't have my horse . His knowledge is incredible I have learned so much from him and I can't thank him enough for what he has done for Holmes. I am so pleased I made the decision to take my horse barefoot and I found Steven Leigh he really is amazing and I wouldn't have anybody else trim my boys feet now.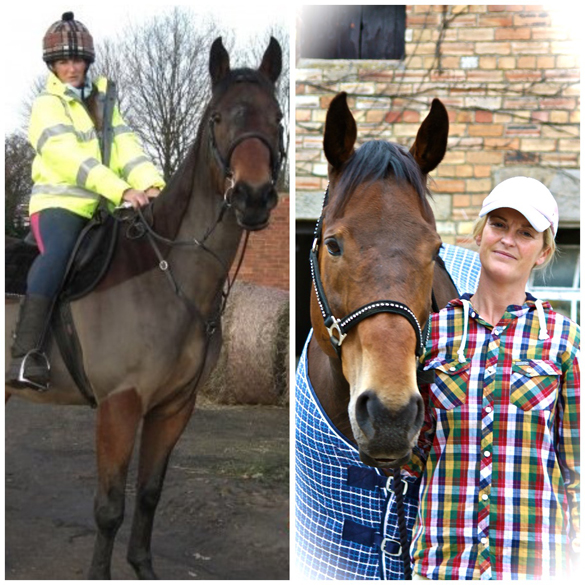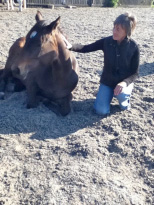 About twenty years ago I heard of a female farrier in America who was advocating taking the shoes off horses and trimming their feet like a wild horses foot and then turning the horses out on more rough terrain than they were normally used to, to allow the hoof to adapt and grow stronger and more naturally the way nature intended. Whilst all of this made absolute sense to me it certainly didn't seem to make sense to the farriers in the U.K I talked to.
The general consensus was that it wouldn't work because the horse/s hooves wouldn't be able to adapt. There were no barefoot trimmers in my area so I had no choice but to continue having my horses shod.
One of my horses in particular always suffered from 'painful' feet and it was so hard to witness and ride a horse with such sensitivity. However, eventually along came Steven Leigh and my prayers were about to be answered. Having a horse barefoot is not a 'quick fix' because the owner has to put in a lot of work i.e. correct diet, exercise, ensuring the horse moves correctly, awareness of grazing management, but it is a fix and all my horses are barefoot and I know without a shadow of doubt they are happy - mentally, emotionally and physically and they can travel on any terrain without a problem.
So, thank you Steven for your dedication to improving the welfare of horses, because I know your work with horses is not about earning a living but changing the world of horses for the better and your desire for continual learning will serve you, your horses and your customers well.
Just wanted to say thank you as who would have thought that a horse that's had laminitis 3 times this year could hack out barefoot for a total of 5 and half hours over 3 days on rough ground without boots or anything. Your a star!!! xxx
Hi Steve
Just wanted to say how pleased I am with Athos's feet since you started doing them last year. What a difference in a year, no more cracks and chips, lovely smooth feet and not a rasp mark in sight.
You're happy to give advice, answer questions and take your time over doing a good job, always explaining to me what you're doing and how it will improve his feet.
Since you've been trimming his feet we've competed in dressage, done some jumping, schooling and hacking out and his feet have stood up to everything without a problem. I wouldn't hesitate to recommend you to anyone who wants to keep their horse barefoot and needs someone who is as full of enthusiasm and as interested and knowledgeable in the subject as you.
Very best
Margaret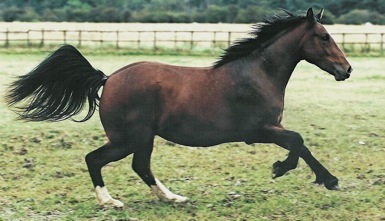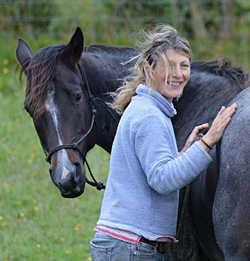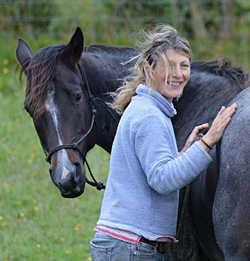 What is stopping you from doing the things that you most want to do with your horse? - Saddle? Training? Anxiety? Nerves? Time? Weather?
It is likely that it is none of the above, chances are you are blocked by your own thinking. Remove this barrier and the seemingly impossible becomes possible. As a student of both Classical and Natural Horsemanship Jane enjoys mixing up the best bits of both worlds and encourages others to do the same by working with the horses thinking as well as his emotional and physical development. "I always have a spring in my step and a smile on my face when I see my horses. If its not the same for my horse then I have to question what I am doing" We believe that every horse can be the best horse in the world as long as we work on their thinking and emotional development as well as their physical development and performance. Our intention is to get to a place where, whatever the task in hand, and it really doesn't matter what the task is, our horse really, wholeheartedly, engages in it. The horse is likely to be more engaged when the task in hand becomes part of their thinking, their idea and we get out of their way, allowing them to do it joyfully. Horsemanship@Friarshawmuir works with people to sort their thinking out and supports them to sort their horse's thinking out so that they can have a blast doing whatever it is that they want to do. Combining classroom sessions on human thinking and its interaction with equine thinking along with horsemanship skills and riding skills Horsemanship@Friarshawmuir sees each rider/horse combination as unique.
In order to keep our own herd in the best possible condition we use and recommend a small handful of people who share our perspective on horse care and wellbeing. Their brains are great as they carry around all the stuff we don't have in ours. When we bring these collective brains together as a "virtual team" then we believe that spectacular things can happen. Steve Leigh from Nature's Way is definitely a brain that you want hanging around as much as possible.
Hi Steven, just to let you know that after your visit yesterday Tommy seems much happier and to be moving a little easier. Thanks for your help and see you in 5 weeks for another trim.
Just to say a big thank you - Completed the Roseden Hill Ride complete with stony tracks and Prince went better this year barefoot than last year with boots on :-) Success!
Steve has been trimming my young Thoroughbred's feet for 18 months now and they have never looked better.
When I first got her as a 2 year old her feet were very short and one had a very large crack down the side. Steve advised to put her on a hoof supplement to help with the growth and condition of her feet. Now with regular trimming and care her feet are beginning to look more rounded and balanced and the crack has grown out.
He is very patient with my mare, as she is not to easiest to work with. I would definitely recommend Steve to anyone who's horse is barefoot, or anyone considering it.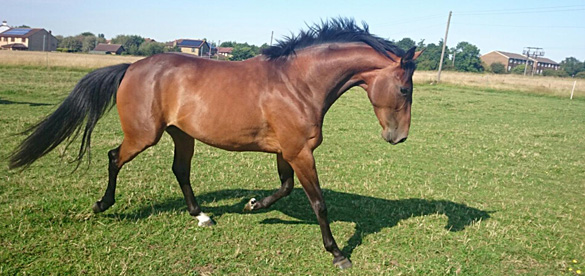 Just completed the 18kms at Harestanes... how come, now barefoot Prince is preferring to go on the gravel down the middle of the tracks - how on earth am I supposed to stop him now??? :-) Thank you.... I think!
Steve has now been trimming our horses for four cycles and in that time I have seen a massive change in comfort levels as well as improvement in hoof structure.
I had been struggling to get my horse comfortable on stones since he had his shoes off years ago. I have relied on boots and there was a period he had serious confidence issues going over stoney ground. Steve was aiming in an ideal world to get him working without boots and I was honestly convinced this would not happen on rough ground. Our new boots didn't fit now this was being addressed and he was tacked up so I thought I'd try it without boots just to see , he strode out over all surfaces without hesitation, stones he would have tripped on or avoided he walked over happily. To say I was thrilled does not even come close.. I am so pleased I have found Steve, I have had many trimmers over the years and never have I seen such positive changes even in this short space of time.
Steve is supportive, helpful and is brilliant with the horses, my grumpy pony, mouthy Arab and bolshy big trotter are all treated with patience and kindness. I am really looking forward to continuing on improving the horses feet and working with Steve.
"Steven has been trimming my old boys hooves for a few years now and a couldnt rate him highly enough! I bought Charm 11 years ago as an 'already' barefoot horse but did not fully understand the reasons behind it at the time. Steven is always happy to share his knowledge and explains what he is doing and why he is doing it in an easy to understand way.
He takes the whole horse into consideration, observing any changes in conformation or whether the horse feels stiff anywhere (particulary useful when you have an old horse like Charmer). Steven is always happy to offer advise on diet and exercise aswell as managing the health of the hoof and always treats my old boy with respect and care. Thanks to Steven my 20 year old tb X trotter is still going strong and continues enjoying hacking out on varied terrain.
I believe he is kept healthy and sound due to the invaluable advice and care from Steven despite having wonky donky feet!

Thank you Steven for helping to keep my gorgeous boy 20 years young!!!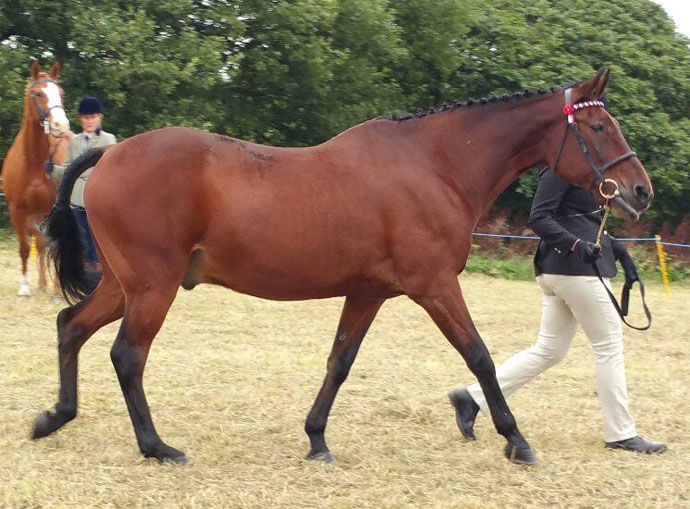 Go to Page 3